AXIS moisture analyzers in stock
24.08.2020
Dear colleagues,
We are glad to inform you that we have AXIS company products again in stock.
ECROSKHIM company is the exclusive distributor of AXIS, Sp.z.o.o., (Poland) company products on the territory of Russia.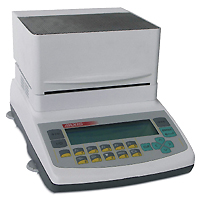 Moisture analyzers AGS 50/100/200 (d=0.001 g)
Moisture analyzers of AGS series are used for quick and precise determination of material humidity upon the basis of weight loss during drying of its small sample (thermo-gravimetrical method). The RS232C connection (in standard) permits to connect a printer or a computer in order to print receipts, reports, or further processing weighing results. The printed reports enable the fulfillment of GLP recommendations.
Technical specifications:
Reading unit (d) - 0.001 g
Humidity readout precision - 1% (sample 0,02÷0,5g), 0,1% (sample 0,5÷5g), 0,01% (sample >5g)
Humidity measurement repeatability - for 2g sample...+/- 0,1%, for 5g...+/-0,04%
Working temperature - from 18 to 33°C
Drying temperature - from 0 to 160°C
Sampling time - from 1 sec to 180 sec
Max drying time - 10 hours
Chamber heating time up to 100°C - up to 3 mins
Weighing time - <8s
Weight chamber dimensions - d108х20 mm
Balance weight - 7 kg
Power supply - 230V, 50Hz
---