Fabric heating mantle ESF-4110S (1,0 l)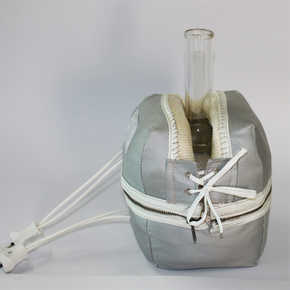 400 $ add to cart
Remainder: 23 pc
unit number: 200.01.0055
Heating Mantle ESF-4110S is developed in accordance with ASTM 4929 "Standard Test Methods for Determination of Organic Chloride Content in Crude Oil". These test methods involve the distillation of crude oil test specimens to obtain a naphtha fraction prior to chloride determination.

Technical specifications:
- Maximum heater temperature, °С – 400
- Housing material: reinforced fabric E-Glass covered with silicone
- Heating element: fabric fiberglass with nichrome wire
- Flask volume, ml – 1000
- Supply voltage, V - 220-230
- Power consumption, W – 520 (lower half - 380W/ upper half - 140W)
- 2 heating zones
- Weight, kg 1.4

It is recommended to use temperature controller ES-2100. Fabric heating mantles are prohibited to connect to AC power without temperature controller.

Features:
- heating element is placed into fabric surface of heating mantle made of fiberglass which provides the following advantages:
- heating element is not distored
- helps to avoid heat losses
---