Coulometric Titrator by Karl Fischer's Method PE-9210 (generator electrode without diaphragm)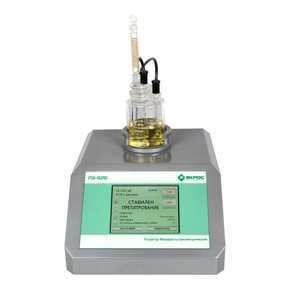 5 200 $ add to cart
Remainder: 0 pc
unit number: 1.60.20.10.0075
The Automatic Coulometric Moisture Titrator PE-9210 is used to measure moisture content in samples of substances based on Karl Fischer's method. The titrator can be used in laboratories of industrial installations, research institutions, control authorities, educational institutions, etc.
Application:
- Petroleum products
ISO 12937:2000 "Petroleum products. Determination of water. Coulometric Karl Fischer titration method"
-Crude oils
ASTM D4928-00 (2010) "Standard Test Methods for Water in Crude Oils by Coulometric Karl Fischer Titration"
Features and Benefits:
- Adaptive operation algorithm is aimed to maintain high accuracy at titration of samples with low moisture content
- Color touchscreen VGA 5.7"
- Graphic display of titration procedure
- Creation and retention of the user measurement methods
- Retention of measurement result and results of measurement statistical analysis
- Reagent resource counting
- RS-232C for connecting of balance
- 2 x USB A for connecting of PC and thermal printer
Technical specifications:
- The net volume of a standard titration cell- 100 ml/150 ml, total volume 200 ml;
- Endpoint detection - Alternating current polarised potential
- Iodine generation - pulsing, direct current (up to 2.000 mA)
- Water weight measurement range in the sample - from 0.01 to 200 mg
- Relative tolerance- ± 3.0%;
- Relative RMSD limit of uncertainty - 1.5%; • Sensitivity- 0.1 µg H2O;
- Stirrer - 100-1000 rpm, constant speed control, step speed adjustment
- Power supply voltage-198-242 V, 50 Hz;
- Electrical capacity-max 170 W;
Analysis:
a) Automatic analysis of moisture content in ppm, %, mg, µg
b) Automatic drift compensation
c) Blank value correction
d) Statistic data processing of the results of the measurement
Dimensions of the main unit:
- height, mm, max -200;
- length, mm, max – 350;
- width, mm, max- 275;
- Net weight, kg, max-6.5;
- Service lifetime, years- 10 years;
- Mean time to failure, hours- 10000
Scope of supply:
Titrator PE-9210 (main unit) – 1 pc.
Titration cell- 1 pc.
Power cable- 1 pc.
SPTA set (formed upon request) - 1 pc.
Datasheet and operation manual- 1 pc.
---