Cell holder for spectrophotometer PE-5400VI/UV (6-position, cuvettes 10x5...50 mm)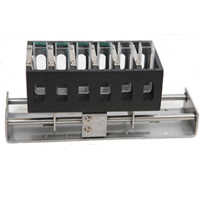 342 $ add to cart
unit number: 1.10.30.20.0401
Purpose:
Cell-holder (6 positions) for 6 cuvettes (EU standard) enables shortening time of analysis procedure and reagent consumption.
Technical specifications:
The cell-holder (6-position) is set in Spectrophotometer PE-5400VI and PE-5400UV. It is designed for simultaneuos installation of 6 cuvettes (EU standard - narrow cuvettes with width 12.5mm and path length 5-50mm).

---