Drying oven PE-4610M (horizontal) (60 L / 320°С)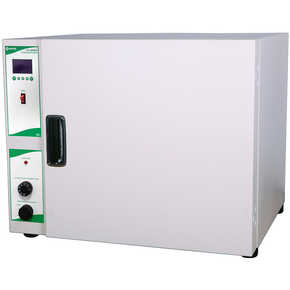 1 980 $ add to cart
Remainder: 1 pc
unit number: 1.75.55.0223
Purpose:
The drying oven is to be used for drying, firing, melting, curing and sterilization of various articles, treatment of tools and samples as well as performance of laboratory investigations of every sort and kind in the laboratories of industrial enterprises, research establishments and medical institutions, colleges, universities, etc.
The following functions are implemented in the device:
- maintenance of the specified temperature with the required accuracy;
- digital indication of the specified temperature and current temperature of the working chanber;
- overheating protection with the operation alarm;
- setting the timer to stopping the heating;
- control of the rotation speed of the fan
Technical specifications:
- Working temperature range, °C – from ambient +50 to +300
- Temperature setting discreteness, °C - ±1
- Temperature non-uniformity throughout the volume, °C - ±2.5
- Chamber volume, l – 56
- Standard/maximum number of shelves, pcs – 3/5
- Power consumption, W – 1600
- Supply voltage, V – 220 V, 50 Hz
- Internal dimensions, mm – 390x350x410
- External dimensions, mm – 755x660x630
- Weight, kg – 50
The scope of delivery of the standard equipment includes:
1. Drying oven PE-4610M – 1 pc.
2. Shelf made of stainless steel – 2 pcs.
3. Mains cable – 1 pc.
4. Data Sheet and Operating Manual – 1 pc.
---
Drying oven PE-4610M (horizontal) (60 L / 320°С) можно купить в нашем магазине с доставкой по России и СНГ. Для жителей Санкт-Петербурга предусмотрен самовывоз со склада ЭКРОСХИМ.
Мы гарантируем качество наших товаров. Увидеть сертификаты, свидетельства, лицензии, паспорта на оборудование вы можете в разделе «Документация». Вы получите методическое и сервисное сопровождение, гарантийное и постгарантийное обслуживание.
Мы постоянно разрабатываем и внедряем лабораторное оснащение: от посуды, аппаратов до мебели. Наша продукция высоко оценивается на российских и международных выставках.