10µl Universal pipette tips (1000 pcs/bulk)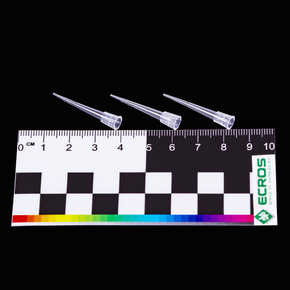 11 $ add to cart
Remainder: 903 pckg
unit number: 1.75.30.30.0090
ECOHIM Pipette tips are made of virgin polypropylene of high quality.
Pipette tips are supplied in bulks (1000 tips/bulk). Tips can be autoclaved (at a temperature 121°С and under a pressure of 1atm, usually about 15-20 minutes).
A pipette and a tip are of a single piece in the process of dosing.
Pipette tips shall be flat and have smooth surface without mechanical damages.
Pipette tips are not subject to compulsory certification because they are not measuring instuments.
Packaging:
Quantity: 1000 pcs.
Color: colorless
Dimensions, mm: 180х140х30
Weight, g: 150
Pipette tip:
Type: Universal (consistent with another types of pipettes), Gilson
Autoclavable at a t = 121°С
Volume range, µl: 0.1 - 20
Retaining cone ? , mm - 3
Length, mm: 31.5
This type of pipette tips is consistent with the pipettes of other manufacturers.
---