ECROS 8-Channel variable volume pipette MP(A) 8/5-50µl (SMART)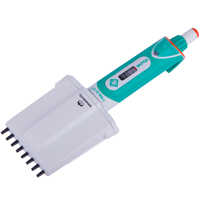 400 $ add to cart
Remainder: 17 pc
unit number: 1.75.30.50.80031
ECOHIM pipettes shall be used in various laboratories such as microbiological, immunologic, biochemical, genetical laboratories. They are also used in a number of medical institutions for volumetric dosing of bio liquids and reagents.
Product name: MP(A) - Multi-channel variable volume pipette (fully autoclavable)
Technical specifications:
- Number of channels – 8, fully autoclavable
- Volume range, µl – 5-50
- Increments, µl – 0.1
- Tip volume, µl – 200; 300
- Inaccuracy:
a) ± 3% (volume 5µl);
b) ± 1% (volume 50µl);
- Imprecision:
а) less than 2% (volume 5µl);
b) less than 0.7% (volume 50µl)
Standard complete set:
1. Pipette
2. Calibration report
3. User manual
4. Removable tips
5. Calibration tool
6. Lubricant
---
ECROS 8-Channel variable volume pipette MP(A) 8/5-50µl (SMART) можно купить в нашем магазине с доставкой по России и СНГ. Для жителей Санкт-Петербурга предусмотрен самовывоз со склада ЭКРОСХИМ.
Мы гарантируем качество наших товаров. Увидеть сертификаты, свидетельства, лицензии, паспорта на оборудование вы можете в разделе «Документация». Вы получите методическое и сервисное сопровождение, гарантийное и постгарантийное обслуживание.
Мы постоянно разрабатываем и внедряем лабораторное оснащение: от посуды, аппаратов до мебели. Наша продукция высоко оценивается на российских и международных выставках.