Muffle furnace PE-4820 (7.2L / 1000 °С)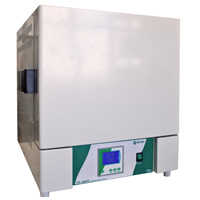 1 500 $ add to cart
unit number: 1.21.40.25
Purpose: the muffle furnace is intended for using in laboratories, industrial and mining enterprises as well as research and development institutes to perform the element analysis as well as to quench, anneal and temper ordinary – and small- size steel parts and to perform other heat – treatment operations.

Advantages:
- Medium temperature muffle furnace with ceramic fiber lining which provides flash heat and low power consumption
- Heating elements are fixed in walls of working chamber which protects them from splashes. Thus it helps to increase service life of the muffle furnace.

Technical specifications:
- Chamber volume, L – 7
- Working temperature range, °С - 50?1000
- Temperature setting discreteness, °С - ± 1
- Temperature non-uniformity throughout the volume, °С - ± 5
- Heat-up time, min – not more than 30
- Supply voltage, V - 220
- Power consumption, W - 2,5
- Weight, kg - 68.5
- Overall dimensions (WxDxH), mm – 535x695x600
---