Laboratory jack PE-2430 New!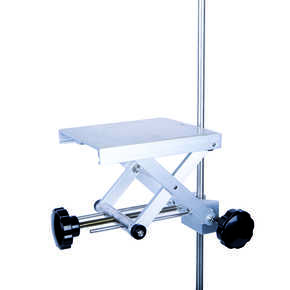 154 $ add to cart
unit number: 1.75.10.0122
Purpose:
The instrument is intended for position of the laboratory equipment (heating mantles, hot plates, water baths etc.) at a given height.
The main feature of this instrument is the possibility of fastening on support rack that makes it available to adjust the equipment at any height.
Technical specifications:
- Platform and screws material – aluminum
- Platform colour – grey
- Adjustment knob material – aluminum covered with plastic
- Lead screw and axis of rotation material – stainless steel
- Length, mm – 158
- Width, mm – 190
- Adjustable height, mm – from 27 to 167
- Holding capacity, kg – 9
- Weight, kg – 1.9
---